bringing hope to the abused and battered can only be a collective effort The Network for Hope and Empowerment
The Network for Hope and Empowerment Cameroon is determined to empower all by educating and empowering on how to eradicate poverty, fight inequality and injustice and tackle climate change. The leitmotif of the Association is that poverty, inequality and environmental degradation are not natural. They are man-made and can be overcome by the collective actions of human beings. Our approach to raising awareness is based upon the progress of the Millennium Development Goals (MDGs) and pursuant to the Sustainable Development Goals (SDGs)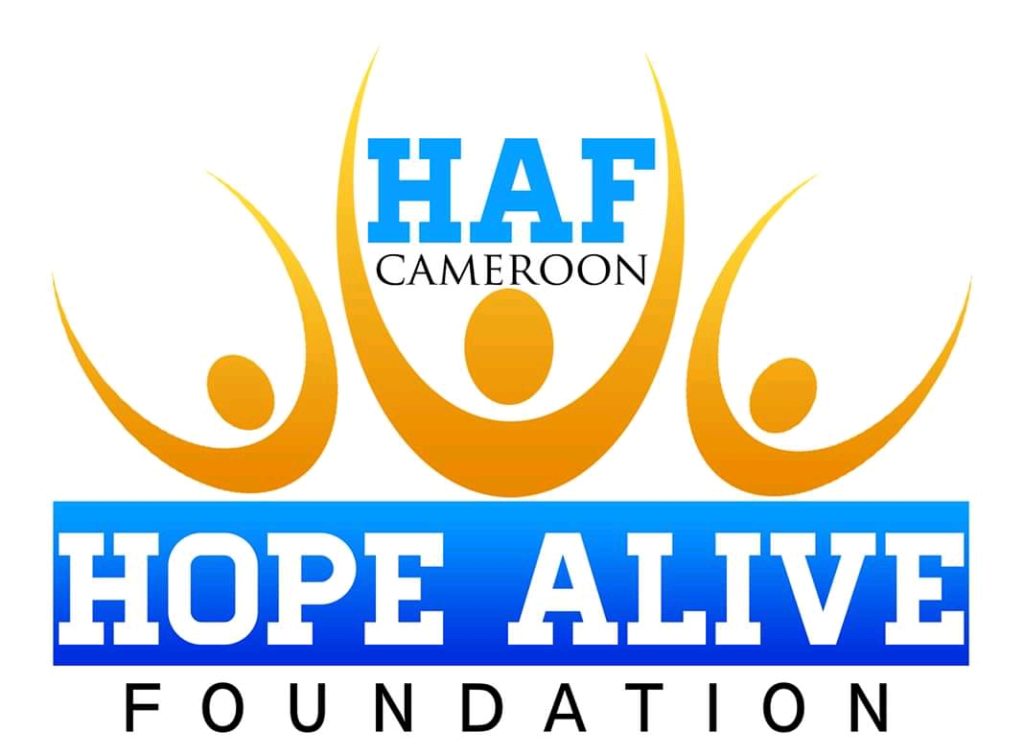 HOPE ALIVE FOUNDATION INTERNATIONAL (HAF)
Hope Alive Foundation is a humanitarian organization created in 2010 by a physically disabled Missionary and development practitioner Rev Noble Amik. HAF's mission is to foster Hope, sustainable growth and good will of socially and economically disadvantaged communities. With headquarters in Ekona, South West Region Cameroon. HAF has reached out to children under 18 years, widows and teenagers mothers in Ekona and nearby villages until the outbreak of the Anglophone crisis, which compelled HAF to relocates to the Mongo areas of Tiko council South West Region Cameroon where she is currently running a charity school project Hope Alive Foundation Academy for orphans and vulnerable community children of internally displaced persons (IDPs). In 2006, Noble in his dedication upon graduation from the University with a degree in theology, created a network of Associations of persons with disabilities for the South West Region with him as the pioneer secretary general working for the Empowerment of the disabled. With the passing away of Noble's Father in 2019, his passion for children and widows prompted him to start up a humanitarian organization working for orphans and vulnerable community children, widows and teenagers mothers in Ekona known as Hope Alive Foundation. The Rev also continues to serve as a passionate Missionary, motivational speaker, social counselor.

Mother and Child Foundation (MOCHFO) is a health care Foundation based in Douala, Cameroon, which seeks to provide assistance to pregnant women and children living in remote areas of the country; deprived, excluded and vulnerable to health hazards that can be prevented, with the availability of health facilities. They assist pregnant women get Antenatal care and protection against malaria and equally provide possibilities for children below the age of 5 (five) to be vaccinated irrespective of where they live.
We can never do it alone, bringing hope to the abused and battered can only be a collective effort of different organizations specialized in different areas. Organizations H4AB seeks to partner with:
Women-led and women's rights organizations that have specialized knowledge, expertise and track record of working in women's human rights and prevention and/or elimination of violence against women and girls.
Humanitarian organizations: Organizations that have specialized knowledge, expertise and track record of working on women's human rights and prevention and/or elimination of violence against women and girls in humanitarian contexts. Those working against abuse of children and persons in general
Organizations working to bring hope to the Abused and Battered, involved in their psycho social and economic wellbeing by promoting self care and economic empowerment; as well as other organizations working with persons living with and or affected by a mental illness or challenge
Regional/international civil society organizations and networks (women-led, women's rights and humanitarian organizations as well as organizations of persons living with a mental illness or mental health challenges)
If your organization is interested in partnering with us, please fill and submit the form below and we will get back to you
Partner Registration form